Welcome!
Always - Making the Ordinary Extraordinary! Since 1993... We have been dedicated to providing inspiring promotional products to augment our client's marketing programs. Our premise - what you want, when you want it, how you want it. Whether you are the smallest start up company or the largest National account, we strive to give the best and most ethical service possible. In this every increasingly "on demand" world we constantly seek solutions for our clients that can be produced very quickly without sacrificing quality.
Give us the opportunity to back up that statement - call us now or e-mail: solutions@pip2promoteu.com
We LOVE a challenge!
Featured Item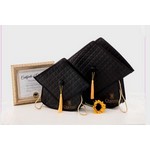 The Quilted Grad Bag - 17"x19"
Luxury Quilted Graduation Bag. The Grad Bag is a magnificent bag option for a school function event,college party celebration and educational fundraiser projects! It is the real bag with the real genu...

Signature Showrooms